2022 Chicago Gourmet Discount Parking
Save and purchase your parking for 2022 Chicago Gourmet events in advance! 
We recommend our Millennium Park Garage and Millennium Lakeside Garages, located at 5 South Columbus Drive between Monroe and Randolph, just steps away from Harris Theater.
Your pass will work at both garages.  These two garages share the same vehicle entrance on Columbus and both pedestrian entrances exit on upper Randolph. 
Rates valid for up to 12-hours from Thursday, September 22th – Sunday, September 25th.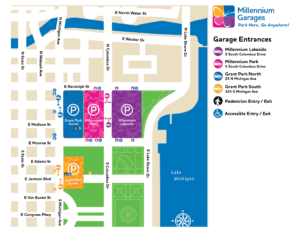 Extended Stay Parking
Save on multi-day parking and book our Extended Stay parking which allows you in-n-out access for up to 5 days!  Choose from any four of our garages.  We recommend out Millennium Park or Millennium Lakeside Garage as they are just steps away from Chicago Gourmet.
Receive 10% off Extended Stay Parking when you enter promo code GOURMET at check out.
Promo code valid Wednesday, September 21 through Monday, September 26, 2022.